Here is few things going on around Digi-land. I always stumble upon something fun, and it's my pleasure to share it with you!!!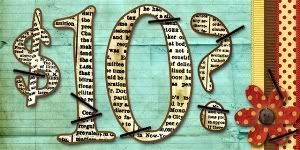 You want to earn some
Weeds & Wildflowers
spending money?? This is a purdy easy one to enter. Leave a comment giving a brief explanation of your scrapping schedule and you'll be entered into a drawing to win a TEN DOLLAR gift card to the
Weeds Shoppe
. Click
here
to make sure you leave your comment on the right day! hee, hee :) Do you want to do a hybrid project that's totally practical? I found one. Check out
Little Dreamer's
June
hybrid project challenge
using T-SHIRTS! How kewl is that? With all these really fun ideas, I'm gonna be a really busy old lady someday!! ROFLMBO :)
This is the official Digital Scrap Girl June Collaboration Kit from all
DSG Designers
! You can get this for FREE with any purchase for 15 $ or more.
Here
is the link to the shop. Hmmmmm...I might have to go shopping! Lol :)
This looks a
really fun challenge
, which I hope I can do in my drug induced coma. hee, hee :) It's going on over
Digital Candy
and
Kristi
is the host. Kinda a "hunt" with a cute participation gift. Guess they have a big birthday bash going on there too, so be sure and check out all the other fun happenings.
I always like "buy something" & "get something" FREE! Well this kit really caught my eye with the cute little doodly, fun, summer stuff. Looks like if you buy the
June Bugs Mega Kit
you get the June Bugs Brag Book for FREE!!!! Have a better look over at the
Scrap Orchard
(they also have a nice freebie section!!)
This is a great freebie!! I believe you only have to register, but hurry...I think there is a deadline. You can find all the info
here
.
Okay...I'm off to get my shoulder worked on a bit. Send happy thoughts my way please...I really want to wake up. I have a lot of scrapbooking still left to do!! ROFL :)
"It's not all about me..."